The Ferrari name alone at one time evoked the pinnacle of the automotive world. If you are reading that as if it no longer does you correctly deduced the implication. Time and technology marches on and Ferrari hardly has a monopoly on high performance these days.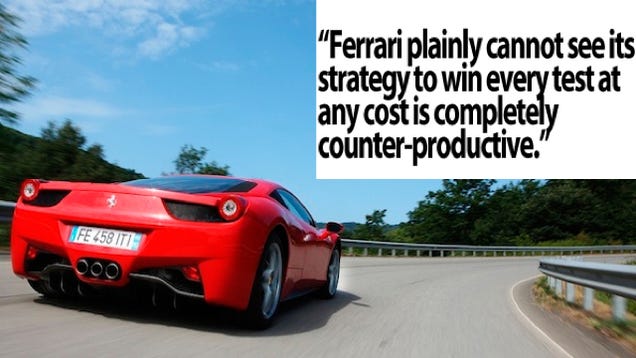 They are challenged by everyone. McLaren, Lamborghini, Audi, Mercedes-AMG, Ford, Dodge, Porsche, you name it. Seriously, think about it. Mercedes-AMG kicked sand in Ferrari's face in Formula 1. Ford has a history of spanking Ferrari with the GT. Not only that,
Ford is the one producing a flat-plane crank high revving naturally aspirated V8 these days
and not Ferrari. McLaren has an answer for Ferrari at every level. And Dodge? Well, we know they offer a 707 horsepower monster but they
also have a Viper ACR on the way
that no doubt can go head to head with Ferrari's best.
That is if Ferrari even bothers to show up. WTF happened to you Ferrari? These days they look so scared and afraid of a direct comparison that they act paranoid. Maranello, relax, it's ok if you aren't the fastest thing on four wheels.
Ferrari refuses to
directly engage their competitors through the media
. When they do, there are rumors they they tweak their cars for the specific comparison test. Reports of different ECU maps as well as special tires going out for test cars exist. Even engineers testing the cars at the specific location the cars will be tested to dial in the suspension. A bit much?
If you do try and defy the factory they use their political pressure to get you to stop whatever you are doing that they do not like. That is the allegation going around regarding a LaFerrari that was independently weighed. Apparently the factory did not like the news of the actual weight getting on the forums so they intervened to pull the post. The super lightweight LaFerrari apparently is a bit heavier than implied at 3692 pounds.
Don't take our word for it:
"TopGear will air the 918 segment mid November because Ferrari is not allowing any testing of the LaFerrari. Reason is that the LaFerrari weighs 1,675kg!!! A LaFerrari owner weighed his car (can't disclose the name) and was shocked at how much it weighed. Basically Ferrari has a test embargo for all LaFerrari testing.

Porsche calculated that the 918 is about 0.8 sec faster on the top gear track than LaFerrari. The 918 also set the record for the top gear track and small Le Mans track."
"Originally Posted by tristatez28lt1
Well guys it is true. 1675kg for LaFerrari. I believe this is with driver but not completely topped fluids. The weight is also the reason why Ferrari has not (and will not) let anybody test it."
Is Ferrari ashamed the LaFerrari is fat? They come off like some chick who has been judged her whole life on her looks who won't put on her bikini because she put on a few pounds. Look, manufacturers are missing weight targets all the time.
BMW is the king of this
. Even the McLaren P1 is not as light as we thought it would be.
That is all fine and dandy. These hybrid drivetrains are not lightweight, we get it. But just refusing to even participate in comparisons is absurd. It reeks of arrogance but even more so it shows Ferrari is scared. They're scared they might lose. Ferrari still thinks they are the best at everything yet they have a history of taking their toys and going home if the other kids do not play the game in a way that favors them. Hey, it's been going on forever. Just ask Ferrari how they feel about Le Mans and the Ford GT40. This is nothing new.
So Ferrari is getting its ass kicked in Formula 1.
Its CEO has quit
. They threw turbos on their
mid-engine V8 because McLaren was
spanking them. They
refuse to participate
in honest comparisons. They
control every aspect of media comparisons involving their cars
.
The real reason we aren't seeing the LaFerrari in action is because Ferrari is not as great as they want to portray themselves as. Their bravado exceeds their ability. Perhaps that means they truly are Italian. You can look at it as the competition has improved or Ferrari has declined. The truth is probably somewhere in the middle.