To do some street setup track testing. I wanted to see how my current DD setup actually performs in the real-world. And now I know. I got 3 runs in, the track was crazy packed, A LOT of cool-down time.. So, full weight, 93 oct pump/meth 90/10 mix. map 7, meth map1 (18.5psi)
The first 2 runs were done on street tires because i wanted to see how that would go. Video's are in the link below the slips.
I also used my Gtech on the 3rd run to test how accurate it actually is. and as you will see in the pics, it reads .1 fast, and about 1mph fast as well.. not oo bad really..
First run here:
horrible 60's as expected, i guess im not as good as i used to be at feathering the throttle. I heard a slight pop more tha half-way through the track and didnt think anything of it. turns out i was one of the boost/vacuum tubes split. so that explains the low mph. A quick fix, as i now carry a few feet of tube in the trunk since this has happened before..
http://sharing.theflip.com/session/6...video/18588414
Next run much better.. BUT.. like an idiot, i was so worried about shifting at the right RPM, i shifted to 5th around 5800rpm, which is just before the end of the 1/4. so i knew it had more in it..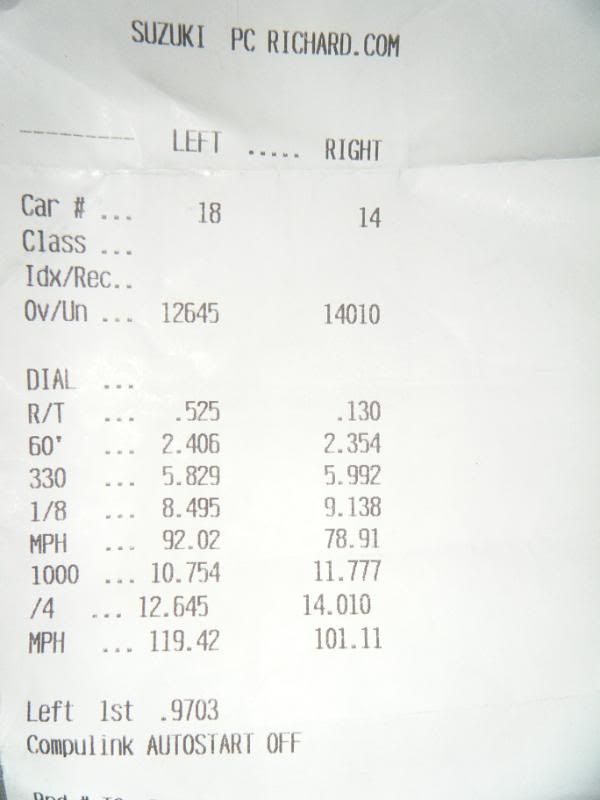 http://sharing.theflip.com/session/b...video/18588442
and 3rd run.. decided i was tired of being in the 12's, but also worried about snapping something, since stock turbo, and now upped turbo guys are snapping halfshafts with ease, i decided to take it a bit easier on the launch, but still wanted something decent.. Looks like im gainin 30mph on the back end.. not too shabby
http://sharing.theflip.com/session/1...video/18588453
So there you have it.. A few people have been complaining that us N.E. guys have problems going fast. Well, thats just not the case today. As ive said before 17/18 psi is where these RB Turbo's really take over and kick the shit out of stock turbo's. In my full interior, no weight reduction (except DR on K1's) you can see the power these bad boys are putting out. Even more so now, you can see that the run I had Vs Byzantine's Lambo was no fluke. He has said he traps 123mph rolling through the 60' and I believe him. I/we can only guesstimate what I can do at 21 psi with some major weight reduction like the top players do. As a matter of fact, im looking into getting a set of K1's for the front, a Braille battery, and maybe one day ill pull the seats out. But for now, I am more than satisfied with what my car, with the RB Turbo's, paired with the JB3 can do.
For right now. i think im done with track testing until i get my hands on the "JB4".
Oh, BTW, there were lots of nice street cars there. The wife got one run of a new, 100% stock GTR on video. You can hear the tower at the end call hit time, which was
11.5@119
, on the lower end of mph's for a stock GTR.
http://sharing.theflip.com/session/f...video/18588523
well.. while im at it. i guess ill post it, its kinda embarrasing though. I did get a 4th run in. But i redlighted, waited for a few seonds as i thought about what an idiot i am to screw up on my last run of a a good might of testing. But i guess its ok, since i saw the Vc2 flash the 0.01 telling me low flow about 100' b4 the end of the 1/4, which means it dropped maps back to map 7. causing me to lose out on a 124mph pass, maybe, dare i say even a 125 mph? I dont know since my laptop again died while waiting in the staging lanes for hours. Noticed it was my highest 1/8 mph of the night.. damn shame I messed that one up..
http://sharing.theflip.com/session/b...video/18588481
So in summary. in my DD-ie full weight and 93oct/meth setup im as fast, if not faster than all but the freakishly, and questionably faster N54's.
Im gaining 30 mph on the back half.