The HPF Crew and their Customer Service
First off, I want to thank each and every single member of the HPF crew. From the moment I made contact with them they were the most polite, enthusiastic individuals that ACTUALLY cared about me and my car. Every single person answered my calls and emails in an extremely timely manner. They answered any and every question I had, and followed through on every single thing they said they would.
For the first time in my life, I didn't have to hound down a person for answers and/or updates, and I'm not just talking about my experiences in the car industry, I mean with ANY vendor I've ever had to deal with in ANY industry. For the first time, I didn't have a single worry about what was going on and what I was getting and when I was getting it; everything just flowed with ease.
From the moment my car got there, John contacted me and updated me with everything he found, what I wanted to do, and what his suggestions were. He gave me his personal cell phone number and told me to contact him at any time with any questions, which I did many times and he was more than happy to answer them all. He also sent me pics on a regular basis without me even requesting them. The guy is a mechanical genius not to mention a perfectionist. He replaced the smallest bolts, just to make them match each other!
David was so easy to work with, no hassle, no sales pitches, just straight up and straight forward with everything.
Chris K was so eager to help me when I was down there; very nice and down to earth guy.
These guys really make you feel like you are a brother and part of the family, and I mean that!
Drivability
We all know how much power these kits make, but I am more amazed and shocked from how tame and drivable this car can be. The car starts up PERFECT each and every time with absolutely NO idle hunt. With both my previous AA and VF supercharger kits, I had idle surge, which is absolutely non existent with the HPF kit. With both the supercharger kits, when sitting at idle, if you blipped the throttle, the car would struggle for a second to gain a steady idle, not with the HPF kit; blip the throttle and the idle is rock steady when the RPM's drop back down.
Driving around the city, the car is so tame; you seriously would never know the car is what it is. I thought the car would be much harder to drive, but that is simply not the case. I can honestly say this car is easier to drive than both my previous supercharger kits, and dare I say it, maybe even better than stock!
I really thought there would be more turbo lag, but there really isn't much at all. It is much more manageable and smoother than I had expected. The power can be very smooth when you want it to be.
Passing on the freeway***8230; too easy! No need to down shift from 6th, just get on the throttle a bit and you can put yourself anywhere you want to be in mere seconds! And this is on pump only mode***8230;
The Sounds
The car is much quieter now, which I wanted as the car was way too loud before, could barely talk to the person next to me, let alone on the phone. But, get on the throttle and the amazing whistle sound of the turbo spooling is just plain sexy! The exhaust tone is much more of a growl now without a hint of rasp; I love it! The blow off valves***8230; oh man! It's just the most intoxicating sound in the world IMO!
The Power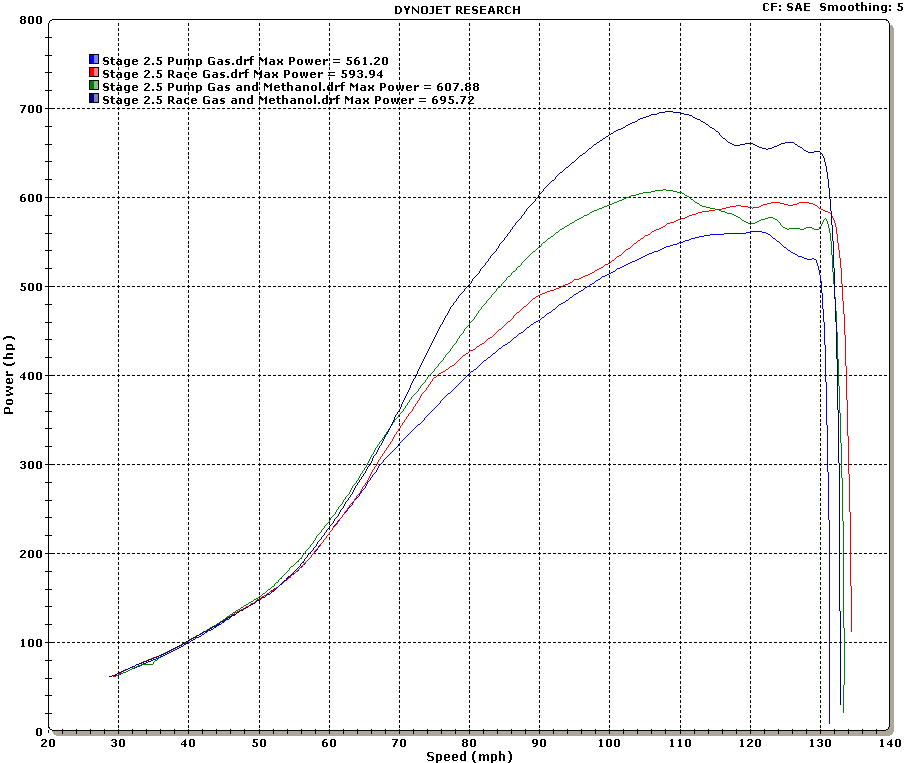 More than you can ever want! Well, at least till I get used to it
The power from the turbo is so different than a supercharger. The power comes on way sooner and the torque is on a whole different level. I never had the sense of extreme speed and "sinking back in the seat" from the supercharger kits, even when I had close to 550rwhp at one time. The turbo really pins you to the seat and gives you an extreme sense of speed and power.
Race + Meth
When I first got to HPF, they had race gas in there, so when I first took it out, MY GOD! Warp speed is the best to describe it! Most of the driving was around town, so I could barely get into it and really enjoy the power at full tilt nor did I want to till I got a little more used to the car at the lower power settings. I'm taking my time with her
I'll review this setting more when I have a chance to really mess with it real soon.
Pump
Pump mode is still so extremely fast. The power is more than enough to take out 99% of the modded cars on the road. This is the setting I will obviously be running most of the time.

Pump + Meth
Although I only gain 45rwhp by switching on the meth, the car feels like it's gaining MUCH more than that. The graph explains this with how much is gained under the curve.
Traction
So far, I've managed to hold down 3rd and up in pump mode. Pump and meth, I can peddle through 3rd decently. I am on some crappy BFG KDW's right now and need to change them to some better rubber asap!
Gas Mileage
You don't get these kits if you care much about MPG's, but how about if you actually got BETTER than stock gas mileage? Yep! On my drive home from HPF I averaged around 24 MPG!!! And that's with a few rips per each tank of gas and cruising at around 90MPH! It's just an added bonus to everything else! Extreme power and improved efficiency! Double win!

Reliability
Who else can put the motor into the car on Monday, break in the motor and dyno on Tuesday, have the customer pick up the car on Wednesday, drive it 1000 miles to Los Angeles by Thursday, 300 miles to Las Vegas on Friday and jump on the track on Saturday, all without a single issue? For the first time in a long time I can drive my car ANYWHERE with confidence and peace of mind!
All in all, I have never been so happy with the service and product I received! I feel like I got a brand new car, in fact, just today, I called it "my new car".
I look forward to driving this beast and showing you guys what it's capable of. I sure have missed those Mexico runs!
Chris B, David, John, and Chris K thank you SO very much for everything you guys have done for me and my car, I can finally say it is perfect now. You guys are first class and treat your customers as such.
Here are some pics of the car from HPF and from Mfest 4: